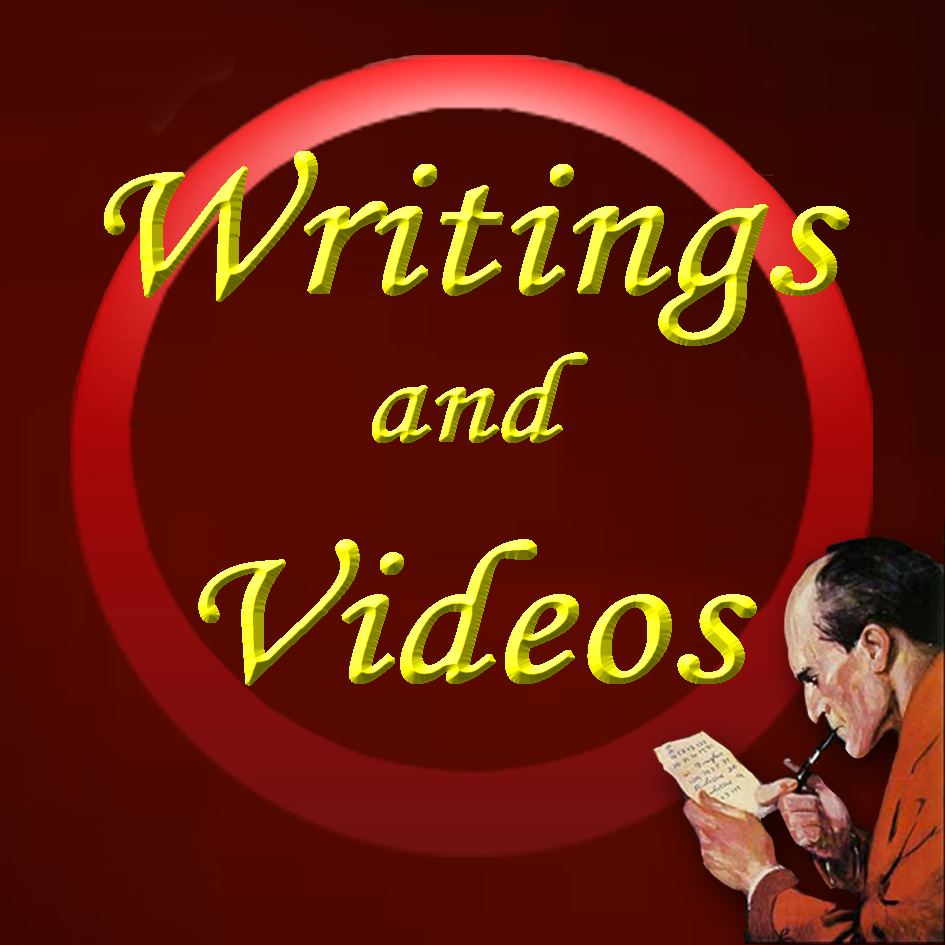 Click on the titles to view the writings and the videos
2023
Red Circle Meeting, March 11, 2023 with Glen Miranker. Glen Miranker's collection of Sherlockian books, manuscripts and other items is peerless. In this talk to the Red Circle Glen explains why collecting books is such a passion for him, and describes how the points of interest go far beyond the words on the pages.
2022
Red Circle Meeting, October 1, 2022 with Dan Stashower. Features a fascinating talk by award-winning author and Red Circle member Dan Stashower about his new book American Demon: Eliot Ness and the Hunt for America's Jack the Ripper. Includes a "ness" quiz from the Red Circle's quizzer-in-chief, Dana Richards.
Red Circle Meeting, March 26, 2022 with Jerry Margolin. Art in His Blood: Sherlockian Collecting A collector of thousands of pieces of Sherlockian art, Jerry Margolin showed us a few of his gems and told the fascinating stories behind them. Dana Richards presented an "Art in the Canon" quiz.
2021
Red Circle Meeting, December 4, 2021 with Nicholas Meyer. The Great Escape We were pleased to welcome author, director and Sherlockian Nicholas Meyer to our December 4 Zoom get-together. Nick billed his talk as "The Great Escape," and it was a truly delightful escape into his personal takes on everything from art and life. . .to the value of pastiches. . .to Sherlock Holmes, with a few words about his fascination for Egypt, which inspired his new Holmes adventure, The Return of the Pharaoh.

Fiddling with the Gramophone, November 2021, with Alan Rettig Two criminals discuss their fate in the fabled sitting room as the Great Detective retires to his bedroom to await their decision. He plays the Barcarolle from Hoffman on his violin. Or maybe on his newfangled gramophone. Could a primitive recording pass for a live performance? Or is the story of "The Mazarin Stone" flawed by a low fidelity ruse? Alan Rettig examines the question in this video.
Red Circle/Reichenbach Irregulars Meeting, July 10, 2021. Routes from the Reichenbach This program featured three experts on both Sherlock Holmes and Switzerland's challenging terrain. Each gave us their views about how Holmes managed to foil Moriarty's henchmen and travel safely from the falls to Florence after dispensing with the professor. The research and creativity of our special guests Eva Iggland, Guy Marriott and Bryan Stone in mapping these routes was evident, and their exuberant turns at playing the Grand Game were appreciated by all.
Red Circle Meeting, June 19, 2021 with Peggy Perdue. Sherlock Holmes and Advertising was the topic of the day. Joining us from Toronto was Peggy Perdue who took us on a guided tour of the many ways the Great Detective has become not just a literary icon, but a marketing goldmine for products from tobacco to alcohol to clothing to toys--just to name a few. Bev Wolov provided context to Peggy's talk with a "prequel" discussion of advertising milestones. A quiz from Dana Richards picked up on the advertising theme.
Red Circle Meeting, March 13, 2021 with Catherine Cooke. At our first virtual meeting of 2021, Catherine Cooke joined us from London on the subject of "Nervous and Terse: Mr. Bradshaw and his Railway Guide." An entertaining talk about the man and his publication--an ever-present reference at 221B. Reports from the Czech Sherlockian society are also featured, along with a Dana Richards quiz, "All Aboard."
2020
2019
The Sherlock Entreaty Alan Rettig was on hand in New York City to review a September staged reading of a new Sherlockian comedy, The Sherlock Entreaty.
Published When the Times Were Right In this paper Carla Coupe elaborates on her conviction that shepherding books--Sherlockian and otherwise--through the publishing process (which she does at Wildside Press) isn't too different from writing a Holmes pastiche (which she's also done). Carla started with Ronald A. Knox's eleven criteria for creating a Holmes adventure and matched them to the steps typically taken to bring stories to the printed page. There are remarkable similarities. Given at the Red Circle, March 30, 2019.
2018
You have been on eBay, I perceive: the pathology of Sherlockian hoarding Monica Schmidt delves into the differences between Sherlockian collectors and Sherlockians hoarders. Given at the Red Circle in September, 2018.
Rex Stout: Sherlockian Extraordinaire Dan Andriacco traces Rex Stout's affinity with--and homages to--Sherlock Holmes and Conan Doyle. A delightful presentation, given at the Red Circle in June, 2018.
Monkey Business Alan Rettig resurrects a short presentation first given at the Red Circle on March 27, 1992. It treats of monkeys, mirth and mayhem in a "Creeping Man" sort of way. Good for a chuckle or two. Presented at the Red Circle in March, 2018.
2017
2015
GridLOCK DC 2015 Nea Dodson

A fine report by Nea Dodson on the second annual DC Holmes convention called GridLOCK, held in August, 2015
2014
My Sherlockian Family Tree Alan Rettig Alan discusses the intersections between his research on his mother's family and the world of Sherlock Holmes. (Given at the Red Circle in March 2014) (.pdf)
2013
Celebrating Murray and Beyond Marcus Geisser An International Red Cross delegate and a noted Sherlockian finds common ground between today's humanitarian practitioners and Watson's faithful orderly, Murray. (posted in October 2013; originally given in March 2013)
221 B Con Atlanta Lynne Stephens A report on the first annual 221 B Con meeting in Atlanta in April 2013. (posted in June 2013)
Two Stories from the Notes of Dr. J. Watson Pamela Russell Sherlock Holmes meets modern environmental science in these short sketches. (posted in June 2013)
Giants in the Earth Jon L. Lellenberg Sketches of some notable Sherlockians who graced the Red Circle's early years. (posted in February 2013; originally given in November 2000)
2012
2011
Our Website's First Birthday Alan Rettig Your webmaster looks back on the first year of the Red Circle's online effort (posted in November 2011)
The Narrative of John Smith: Conan Doyle's Lost Novel Daniel Stashower Conan Doyle's early novel was lost (literally), later rewritten but misplaced, still later found again, and finally edited by Dan Stashower. A trifle perhaps, but we know what Holmes said about trifles! (posted in September 2011)
2010

October, 2013 -- August, 2014, Sherlock Holmes Will Explore Mars. . .An Actor, an Explorer, and Conan Doyle
April, 2011 -- February 2013, Debonair and Splendid. . .Venice Anyone?. . .A Neopolitan Society. . .You Are a Conductor. . .Hunting Vampires. . .Weaving Our Website. . .They All Answered to the Bodymaster. . .I Wish't I Was in Peoria. . .Down to Earth: The Literary Geologists. . .Art in the Blood
January -- March, 2011, Foyled Again (screening the film Kitty Foyle). . .Appreciating Jeremy Brett. . .A Birthday Bibliography. . .More Friends in High Places (John Lellenberg's Baker Street Irregular). . .At Home with Malice Domestic
November -- December 2010, Friends in High Places (Graham Moore's The Sherlockian). . .BBC's "Sherlock" TV Series.
Some of Our Contributors