Sherlockian.net A large list of links, well selected
Sherlocktron More good sources via links, including Sherlockian merchandise.
Camden House Stories, graphics, audio, music and more;
The Baker Street Journal The quarterly magazine of the Baker Street Irregulars, and much more.
Sherlock Holmes Society of London Excellent periodicals, extensive audio archive.
Watson's Tin Box Sherlockian society in Ellicott City, MD.
Denizens of the Bar of Gold Sherlockian society in Easton, MD.
Society of the Naval Treaty Sherlockian society in Annapolis, MD.
Sherlock DC in Washington, DC
The Sons of the Copper Beeches Sherlockian society in Philadelphia, PA
The Best of Sherlock Holmes Top-ten lists, manuscript details, and the e-world of Sherlock Holmes, all from Randall Stock.
I Hear of Sherlock Everywhere Podcasts and special features from Scott Monty.
Sherlockian Who's Who Sherlockian societies and their members.
Sherlockian Calendar Dates and events.
Criminal Element Lots of links to Sherlockian and other criminal content.
Scuttlebutt from the Spermaceti Press through 2011 Peter Blau's news of the Sherlockian world.
Scuttlebutt from the Spermaceti Press 2012 and onward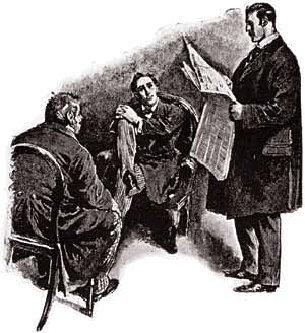 What on earth does this mean?
"The Red-headed League"
Sidney Paget, 1891

"I hear of Sherlock everywhere since you became his chronicler."
--Mycroft Holmes
By today's standards, the old Victorian concept of "everywhere" was certainly a narrow one. If Mycroft were to Google his brother today, he'd find the vast number of references dizzying. And sometimes, we do too.
Herewith then, a somewhat shorter list of select Sherlockian online resources, chosen for their interest, scholarship, completeness and, in the case of our sister societes in the mid-Atlantic area, their proximity.
The first site we recommend is the main reason we make no effort here to be comprehensive. Chris Redmond has already done that. His Sherlockian.net is a perfect starting place for researching Sherlock Holmes and his world. At its core, this site is an exhaustive list of links that can take you anywhere you'd care to go, from the stories themselves, to movies, to books, to pastiches--and much more. The site is structured in a friendly and easy-to-understand way, and Chris' guiding editorial hand helps link you to the best resources in each subject area.
In the same category (and containing many of the same links) is Willis Frick's Sherlocktron. Of special interest here is an exhaustive list of purveyors from whom Sherlockian merchandise may be purchased.
In the canon, Camden House was an empty house. Online, Camden House is anything but empty. Here you'll find the stories, the artwork, the graphics, the audio, the music, even screensavers and wallpaper.
The Baker Street Journal, the quarterly from the Baker Street Irregulars in New York, has been published since 1946. Some articles from the print version are posted on the website, where you also have the opportunity to subscribe to the print version. In addition to the magazine, you'll find many publications and other items for sale. Of special note is the Manuscript Series which includes a book entitled Mandate for Murder. It features a facsimile manuscript of our namesake story, "The Adventure of the Red Circle," along with commentaries and notes.
A few thousand miles and one ocean east of the Irregulars, the Sherlock Holmes Society of London is the gathering place for Holmesians in that great city. There, Sherlock Holmes, Dr. Watson and their familiar supporting players seem to be with you at every turning--and as you'd expect, the Society takes full advantage of operating on the Master's home turf. Their website is good fun, inviting one and all to join the Society (members come from all over the world), and offers well-written periodicals along with an impressive collection of audio files--mostly vintage Holmes radio programs.
Much closer to home, four sister societies in the mid-Atlantic are worthy of online notice: Watson's Tin Box in Ellicott City, MD, The Denizens of the Bar of Gold in Easton, MD, The Society of the Naval Treaty in Annapolis MD and Sherlock DC in Washington each have websites detailing their activities.
The Best of Sherlock Holmes is in the eye of the beholder, of course. But Randall Stock has a very good eye indeed. His top-ten lists alone are worth the visit. Whether you're looking for Sherlockian gifts, quotations, movies or books, you'll find ten good choices in each category. There's also a notable manuscript section and a fascinating look at the e-world of Sherlock Holmes.
Scott Monty's popular website I Hear of Sherlock Everywhere bills itself as "news and information about Sherlock Holmes in popular culture in one convenient site and podcast." The podcasts are especially fine and make good company on those long flights, walks, runs or evenings at home.
Looking for other Sherlock Holmes societies and those who inhabit them? Just click Sherlockian Who's Who to find societies listed by country, along with names and photos of their members.
A fine companion piece to the Who's Who is Ron Fish's Sherlockian Calendar. This site offers a wide-ranging list of dates, places and events that can be especially handy if you're planning to travel. Like the Red Circle, most groups warmly welcome out-of-town visitors.
There's a wealth of crime in Criminal Element, including plenty of Holmesian content. Some good links to follow here that will lead you to fascinating places. Click back to their home page for a broader view of crime.
The malevolent Professor Moriarty sat in the center of his web of crime, and for decades the Red Circle's Peter Blau has presided over his own web--happily, a far more benign one. Peter is the recognized clearinghouse for Sherlockian and Doylean news. He is regularly in touch with so many fellow enthusiasts that he accumulates an astonishing assortment of information. What's more, he writes everything down! His updates are always available here for editions through 2011 and here for 2012 and beyond.. Peter has been doing a newsletter for 40 years, and the Scuttlebutt has been online since 1985. All back numbers to 1985 are archived at the site, where you can also read Peter's explanation of the title (yes, there's a Sherlockian connection). This is certainly the place to go when you want to know what's new--and what was new. If the link to the Scuttlebutt shown above doesn't work, you can get current editions by simply clicking the "Scuttlebutt" button located on every page of this site.