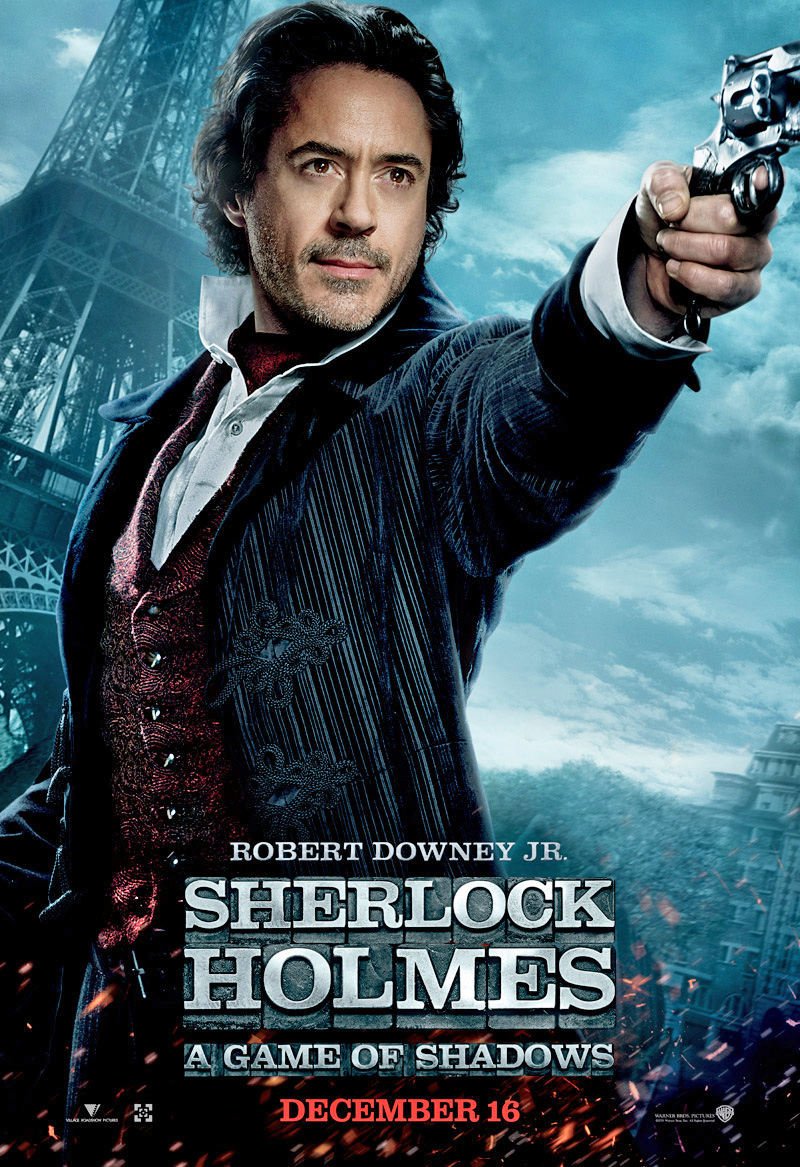 Other Reviews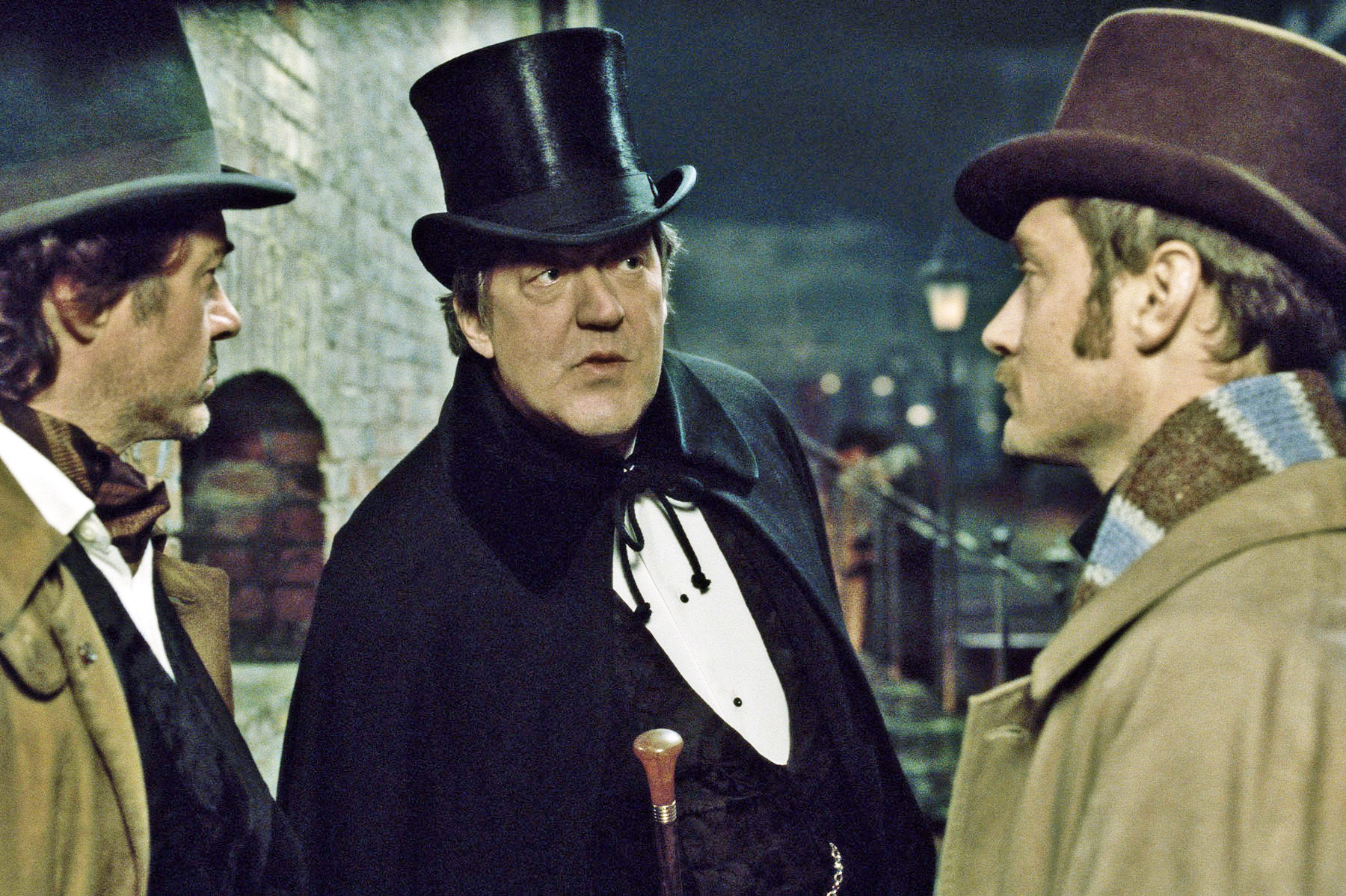 Robert Downey, Jr. as Sherlock Holmes
Stephen Fry as Mycroft Holmes
Jude Law as Dr. Watson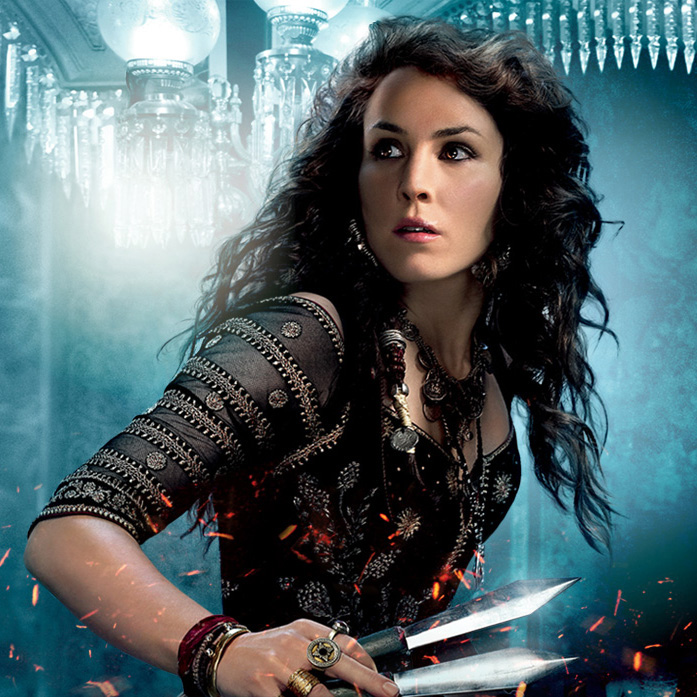 Noomi Rapace as Sim
Review
Sherlock Holmes: A Game of Shadows
by Alan Rettig
Red Circle Webmaster
Guy Ritchie's second Sherlock Holmes film is of a higher caliber than the first--as long as we're talking about the caliber of the bullets, shells, mortar rounds and cannonballs that explode relentlessly for more than two hours. While Ritchie's Holmes, in the person of Robert Downey, Jr., may be using cocaine, Sherlock Holmes: A Game of Shadows is certainly an action film on steroids.
During the occasional moments when the smell of gunpowder abates we get a whiff of a plot, which carries suggestions of "The Final Problem" and even resorts to a few Canonical passages to give Sherlockians their bearings. When we're told in the first reel that there will be a diplomatic conference at Switzerland's Reichenbach Falls, we're pretty sure that somebody will be getting wet in the last reel.
In between, we're given a frenetic duel between Sherlock Holmes and his classic nemesis Professor Moriarty, played with dull-eyed reserve by Jared Harris. Mr. Harris captures the professor's outward calm, but misses the internal evil genius we expect in Moriarty. His matter-of-fact malevolence borders on the bland, which seems an odd acting and directing choice in a film that is otherwise persistently over the top.
Moriarty is plotting to corner the munitions market as he foments a world war, and it is up to Holmes to stop him. That's pretty much the storyline. The action is played out in a series of hyperbolic encounters reminiscent of a Roadrunner cartoon. No matter how many anvils fall on the detective's head, and no matter how many times he races off the cliff, he lives on to pursue his prey, cracking wise all the way.
Of course, he is not alone in his pursuit. Among his sidekicks are his brother Mycroft, played by Stephen Fry, who nearly steals the show in a scene that can only be described as naked comedy. Fry's interpretation of Mycroft is spot-on and more than memorable, even though his screen time is limited. The Swedish actress Noomi Rapace is also on hand as the Gypsy fortuneteller Sim, recruited by Holmes to help save the world. Ms. Rapace, who distinguished herself as Lisbeth Salander in the original Girl With the Dragon Tattoo and its sequels, is a good addition to the cast; with a script that took better advantage of her talent she might have excelled. Rachel McAdams does well in her brief encore as Irene Adler.
Also returning from the first film is Jude Law as Dr. Watson. Although Mr. Law is an accomplished actor, this film forces him into an uncomfortable relationship with Sherlock Holmes, and his performance suffers as a result. From Holmes' palpable disgust with Watson's marriage to Mary Morstan, to a scene where Holmes commands Watson to "lie down with me on the floor" (to avoid being shot), to another where Holmes insists on dancing with Watson at a dress ball (in order to spot the malefactor), the clear homosexual subtext of the script--along with the film's breakneck pace--thwarts any possibility of Mr. Law building on their collegial friendship from the first film. Instead, Mr. Law's Watson seems annoyed, unsure, out of place, and a bit befuddled opposite Mr. Downey's whirlwind of a Holmes.
The film's craft is beyond reproach. If the relentless action is sometimes annoying, it is still superbly rendered in every department, from cinematography to special effects to a powerfully mixed soundtrack that will severely test the subwoofers at your local movie emporium. It is a slick package, with expansive geography, massive destruction, overwhelming chaos, and testosterone to spare.
What it lacks are those special moments that tell us that there is ultimately order and reason in the world. . .the moments that keep us returning to Holmes again and again.
Send me your comments at alan@redcircledc.org or leave them at the Red Circle's Facebook page. We'll add them here!
--Kathryn Sukites says. . .I enjoyed it; however, I think this film was lacking in any sense of mystery or intrigue that was part of the first film. Here, we very quickly know exactly who the villain is and are briskly swept along as Holmes tracks him down. In the first film, we did have a nice sense of science versus supernatural and did have to spend a bit of time with Holmes alone in a room as he gathered his thoughts about the case. Maybe the best of both films will nicely merge to make a fine third entry--one can hope.
--Bob Howard says. . . It was a fun 2-plus hours. It is definitely a big screen picture. Enjoy it for what it is because it is not a cerebral Holmes.