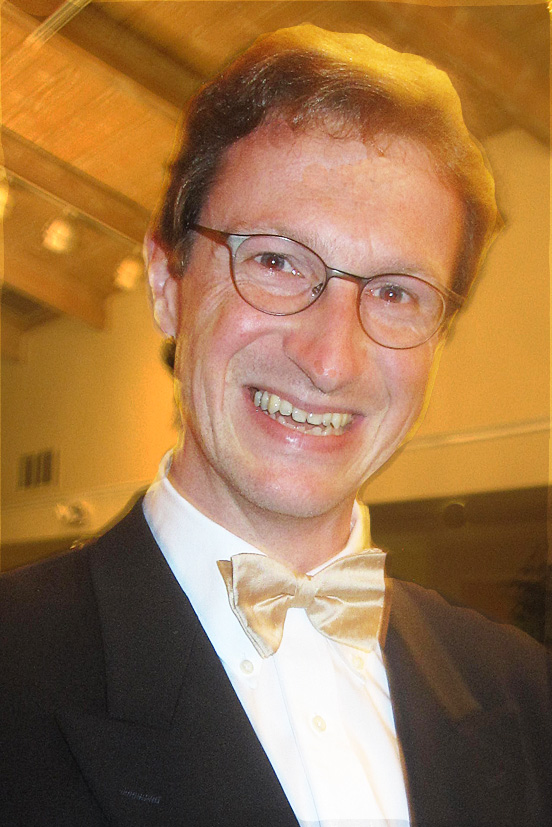 Marcus Geisser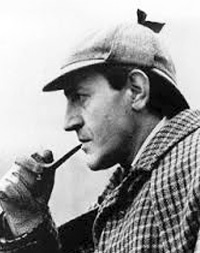 Douglas Wilmer as Sherlock Holmes
1964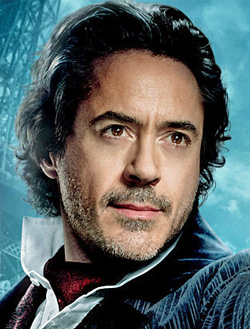 Robert Downey, Jr. as Sherlock Holmes
A passionate portrayal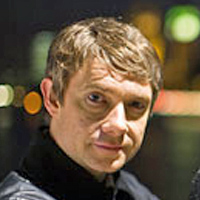 Martin Freeman as modern-day Watson
Still damaged by Afghan war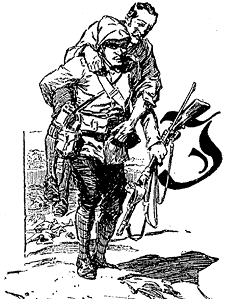 "I should have fallen into the hands of the murderous Ghazis had it not been for the devotion and courage shown by Murray my orderly."
-- J. Watson, MD
Illustration by Richard Gutschmidt, 1902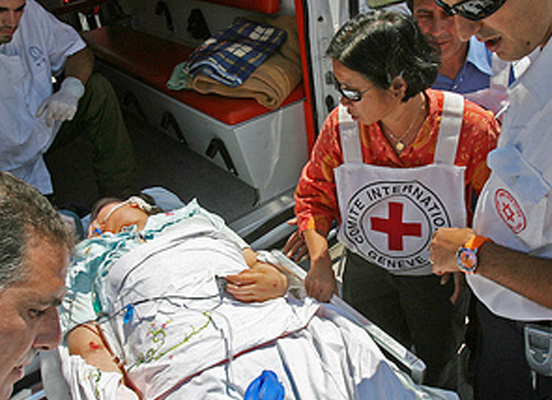 Success is to be there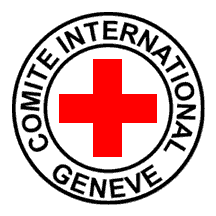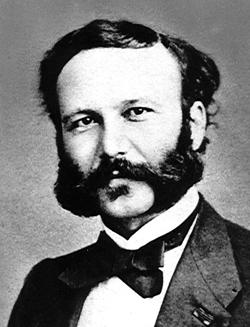 Henri Dunant
International Red Cross founder

Celebrating Murray and Beyond
by Marcus Geisser
The author is a delegate of the International Committee of the Red Cross
and a devoted Sherlockian
This paper was first given at The Six Napoleons of Baltimore in March, 2013.
Our lifelong pursuit of the profound joy to be a boy who's half a man or, if you like, a man who's half a boy does not start with the chance meeting of two old friends at London's Criterion Bar. Nor does our enthusiasm for the adventures of the men who never lived, and so can never die, begin in that lofty chamber littered with bottles, test tubes and Bunsen lamps at Bart's Hospital.
A little over three years ago I realized that any true Sherlockian adventure must have its origins in Afghanistan. "Elementary!" you will say, because in the opening paragraph of A Study in Scarlet we learn that the first adventure of the young army surgeon named Watson started after he reached Kandahar.
On a cold January day in 2010 I arrived in London from Kandahar. London: that great cesspool into which not only loungers and idlers drain, but also globetrotters like me! No, I did not arrive in England aboard the troopship Orontes. I had just spent eighteen hours in a succession airplanes that had brought me from Kandahar via Kabul and Frankfurt to London.
It was on that very evening that I had my first London reunion with Sherlock Holmes. We did not meet at the Criterion Bar or Bart's, but at The Landsdowne Club. And no, Holmes did not appear to me as Robert Downey Junior, or Benedict Cumberbatch, or Jonny Lee Miller. I traveled across two continents to honor still another actor who has played Holmes with great distinction, Douglas Wilmer, to whose 90th birthday party I had been invited. As I entered the dining room, twenty fellow Sherlockians rose. You have already deduced their greeting. . .
"You have been in Afghanistan, we perceive!"
Unlike Watson's experience at Bart's when he first shook hands with Holmes, my friends did not throw white crystals into a vessel, nor did they add drops of a transparent fluid. Instead, they offered me some excellent claret. What a superb beginning to a truly memorable Sherlockian get-together.
"I hear of Sherlock everywhere since you became his chronicler," said Mycroft Holmes when he first greeted Dr. John H. Watson in "The Greek Interpreter." Mycroft's remark is as insightful now as it was in 1888. Today, Holmes' chronicler is not good old Watson with his pen, but film directors like Guy Ritchie, screenwriters like Steven Moffat and Mark Gatiss, and producers like Robert Doherty.
Whatever we think about the current TV offerings from the BBC and CBS, their vision to catapult the 19th century consulting detective into today's universe of Facebook, iPhone and YouTube is clear proof that while Holmes may indeed be a man who never lived, he now more than ever holds claim to immortality.
And yes, I like Robert Downey Junior too. His portrayal of Holmes goes beyond the armchair detective who only occasionally ventures out of 221b Baker Street. His Holmes has not only the passion and "art in the blood" of his ancestor Horace Vernet, but also the power of a boxer and the skills of a Master of Baritsu. I miss Holmes the fencer; perhaps he'll appear in the next film!
And we must not forget Jude Law, who plays Watson to Downey's Holmes. In him we are introduced to a Watson who not only convincingly passes as an intelligent, passionate young man who succeeded in his medical exams and became a surgeon. We see a Watson who has indeed been to Afghanistan where he survived one of the bloodiest battles of the second half of the 19th century: the battle of Maiwand, where British and Indian troops of the Bombay Army fought against Afghan regular troops and local tribesmen.
I believe that today's filmgoer not only hears of Sherlock everywhere, he also hears of Afghanistan everywhere. Especially in the United States of America.
Three years ago, when I came to London after leaving Kandahar, the reports about the fighting in South Afghanistan were making headlines worldwide. As is so often true with conflicts in distant corners of our globe, the citizens of our media-driven world were coming to know of battles not in Maiwand, but in Marjah, Sangin and Nad Ali District. These far-away places were suddenly very close to home, on our TV screens, in our newspapers and on our computer terminals.
In 2010, the battle in Southern Afghanistan was not between British and Indian colonial troops as it had been in the 19th century. This time, an American and British-led NATO contingent, fighting alongside Afghan national troops, were pitted against Pashto tribesmen and the Afghan Taliban, supported by individual fighters from neighboring countries like Pakistan. Today, as the international forces wind down their presence in Afghanistan, we ask ourselves–as Watson did in 1887–whether this long war of our young 21st century brought honor and progress, or misfortune and disaster. This is a question historians will answer, not I.
My mind turns instead to the contemporary Watsons, like the one depicted so powerfully in "A Study in Pink," the first episode of the BBC's Sherlock series. In him we see today's war veteran who returns home, his health irretrievably ruined, after being wounded in Afghanistan. This modern-day Watson, played so superbly by Martin Freeman, risks falling into the abyss of a comfortless, meaningless existence, just like the Watson we met on the very first page of A Study in Scarlet, written more than 125 years ago.
Today in the United States the veterans of Afghanistan have begun coming home, with many more to follow. I hope that, like Watson, all the returning soldiers encounter a friendly face back home. Young Stamford lent a patient, sympathetic ear as Watson recounted his misfortunes. And of course it was Stamford who introduced Watson to the man who would forever change the life of this war-battered surgeon.
Yes, we all remember young Stamford. But there is someone just as important whom we often forget: the man who saved Watson's life in the first place.
In the battle of Maiwand, a mere twenty miles from Kandahar, after being struck in the shoulder (or somewhere!) by a Jezail bullet, Dr. Watson was evacuated by Murray, his orderly. Murray put the future chronicler of Sherlock Holmes on the back of a packhorse and managed to bring him safely to the British lines.
Watson was treated at the base hospital in the Pakistani town of Peshawar. Today, American and British wounded soldiers are first treated either at the state-of-the-art hospital at Camp Bastion in Central Helmand, or at Kandahar Airfield. Once they are stabilized, they're flown home. In an ironic twist, it is now the severely wounded Taliban fighters who are often treated in makeshift medical facilities in places like Peshawar, Pakistan.
It was the 19th century linguist Ferdinand de Saussure who famously said that the point of view creates the object. My point of view is not that of a military man, a political strategist or a diplomat. I am a humanitarian practitioner who, while I was in Afghanistan, was responsible for the activities of the International Committee of the Red Cross–the ICRC for short–in Helmand, Kandahar, Uruzgan and Zabul Provinces.
But Afghanistan, as Americans like to say, was "not my first rodeo." I've also been assigned to the Congo, Burma, Liberia, Darfur, Iraq, and now Washington DC. Wherever I go, my work as a humanitarian practitioner is always centered around the never-ending compromise between military and political realities on the one hand, and the conscience of humanity on the other.
My perspectives on the prevailing situation in Southern Afghanistan were forged through myriad encounters with Afghans who suffered the consequences of fierce fighting between the Western supported Islamic Republic of Afghanistan led by President Hamid Karzai, and the Islamic Emirate of Afghanistan under the leadership of Mullah Mohammed Omar. The Afghans I met were those who were displaced because of intense fighting during the US-led surge, or those who were detained by NATO and Afghan Security Forces, and their sometimes dubious allies.
Most vividly though, I recall the war-wounded in the wards of the Mirwais Regional Hospital in Kandahar, who suffered catastrophic wounds from the Taliban's weapon of choice: improvised explosive devices. These vicious weapons are leaving a shattering legacy of death and destruction that will endure for generations. These crude explosives do not choose their victims. They make no distinction between a million-dollar mine-resistant armor-protected tank from the United States, and an Afghan kid on a bike.
Other victims were shot in the crossfire between soldiers of the NATO coalition, Afghan National Security Forces and Taliban warriors. Still others were victims of NATO's helicopter-borne air assaults.
In 2010, approximately 3,600 people were admitted to Mirwais Hospital with war wounds. That represented a 100% increase in a single year! Today the figures are down, but only slightly, with a still very high 3,300 admissions in 2012.
But these are not just numbers. These are people. Many of those admitted to hospital are family breadwinners; others are family members whose injuries cause lifelong disabilities. The long-term economic impact on the lives of all of them will be significant.
An important part of my job was to speak for those thousands of people who had no voice, to bear witness to their suffering. And I spoke to the leaders, whether they were in US uniforms, elegant Afghan suits or Pashto turbans. My purpose was to point out the excesses of behavior by combatants on all sides. These conversations, most of which occur behind closed doors, are what we call "protection of the civilian population." The aim is to change patterns of behavior, and to inspire warriors to act according to the principles of the Law of Armed Conflict. In the end, the goal is to alleviate the suffering of civilians and all those who are no longer in combat, such as wounded fighters and detained soldiers.
I am often asked how one can measure humanitarian success in an environment like Afghanistan.
The answer is simple, but at the same time profoundly important. Success is to be there, to remain present, on the ground, despite increasing insecurity. It is only our physical presence in conflict zones that enables humanitarian practitioners to help people in need. We earn the power to do this when all sides understand that we are driven by bedrock principles that are at the core of the Red Cross movement: neutrality, impartiality and independence.
Glimpses of success can take other forms, too. For instance, in Kandahar we have a complex network of private taxis to evacuate the wounded across frontlines. They are today's version of Murray's packhorse, where wounded Afghans are transported in battered old Toyota Corollas, because the public ambulances do not reach rural areas. In 2010 alone, almost 2,000 wounded reached hospitals through this Red Cross-sponsored network of yellow Corollas. I called our taxis the "busy bees," or "the beeline."
Helping the wounded is a relatively straightforward job for a humanitarian practitioner. Establishing and sustaining a dialogue with those who carry guns is vastly more complex, and success is more difficult to measure. A good example is a particularly vicious Taliban attack against an Afghan National Police post outside of Kandahar, using a fake ambulance packed with explosives. This outrageous act triggered a public protest from the ICRC, and the Red Cross received a relatively prompt, public assurance from the Taliban that it would not happen again. That is success.
Sometimes success can appear, quite literally, between the lines. I am gratified when I study today, in my office in Washington, revised rules of engagement of the U.S. armed forces, and I see that they include the spirit of some of the recommendations we made in Afghanistan.
Earlier, I said that humanitarian action is a compromise between military and political dictates on the one hand and the conscience of humanity on the other. Reaching this compromise is at the heart of contemporary humanitarian action, and it can only be done by people who are not indifferent to the suffering of others.
People like Dr. Marcel Junod, who worked for the ICRC in the Abyssinia War of 1935, the Spanish Civil War, visited prisoners of war in Europe during the second world war and was the first independent observer from the West who reached Hiroshima after the dropping of the atomic bomb.
He calls what drives humanitarian practitioners "the spirit of the thing."
". . .that spirit, the spirit of combat, which we kept alive in us and which so often persuaded us to attempt the impossible, to extend the limits imposed on our action against the efforts of those who just as constantly tried to restrict them still further."
On a battlefield in 1859, a young Swiss businessman, Henri Dunant, witnessed the aftermath of a bloody encounter during the War of Italian Unification. Franco-Sardinian forces had clashed with Austrian troops near the small town of Solferino, in northern Italy. By pure coincidence, Dunant arrived in the village of Castiglione where more than 9,000 wounded soldiers had taken refuge.
Together with local women, Dunant worked tirelessly to treat the wounded. He cared for soldiers he neither knew nor supported. He was indifferent to the colors of the uniforms, but he was not indifferent to the men who wore them. He was simply a man who looked after others in distress.
By 1863 Dunant and a few others laid the foundations for what would become the International Committee of the Red Cross. In the century and a half since, humanitarian aid workers have had one thing in common: not to be indifferent to those who suffer. Just as Murray, the orderly, was not indifferent to the suffering of one of our best friends, the doctor whose words we read again and again.
So, let us raise our glass and thank Murray for his services, and toast the humanitarian ideals we honor to this day.
To Murray, the true humanitarian in the Canon.