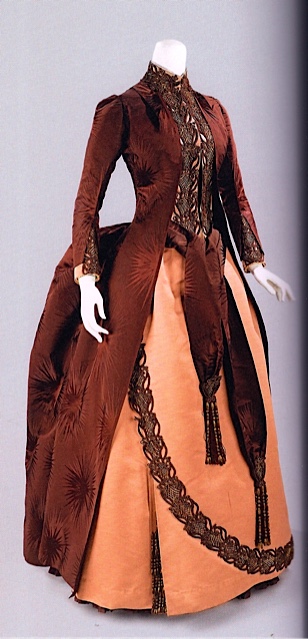 Irene Adler might have worn this afternoon dress with rich fabric and lace for entertaining.
(Scandal in Bohemia)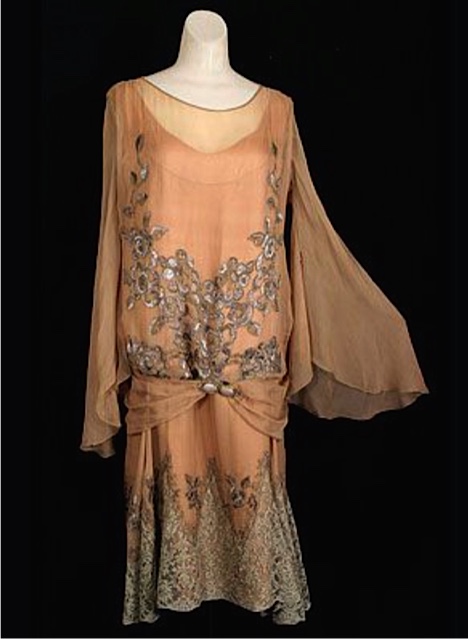 A slightly more modern example, Mrs. Neville St Claire wore mousseline de soie(silk muslin) to greet her husband after his long absence. (Man With the Twisted Lip)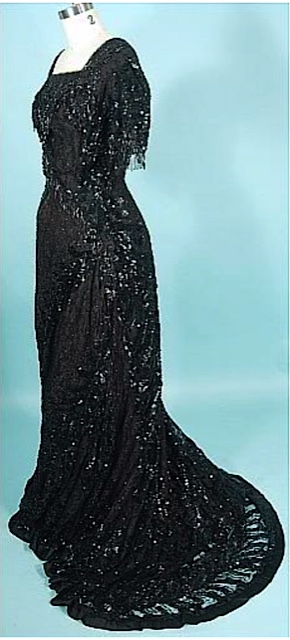 A black sequined dinner dress lay beside Lady Brackenstall as she told Holmes of the intruders she claimed murdered her husband
(Abbey Grange)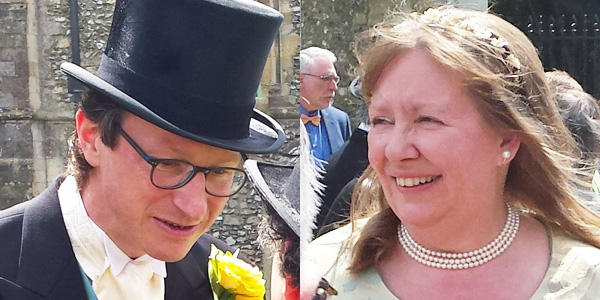 Markus Geisser and Helen Dorey wed in Winchester, England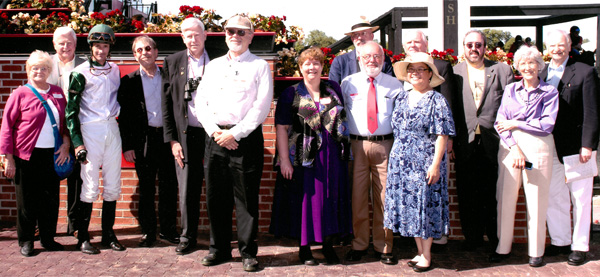 Sherlockians celebrate the running of the Silver Blaze, Southern Division, at Pimlico Race Course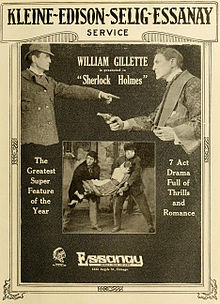 William Gillette in Sherlock HolmesNewly discovered. . .Newly restored

By Carla Coupe
The Red Circle gathered on June 26 at the Hyatt Regency Bethesda. A near record turnout enjoyed an early summer evening of food, drink and fellowship.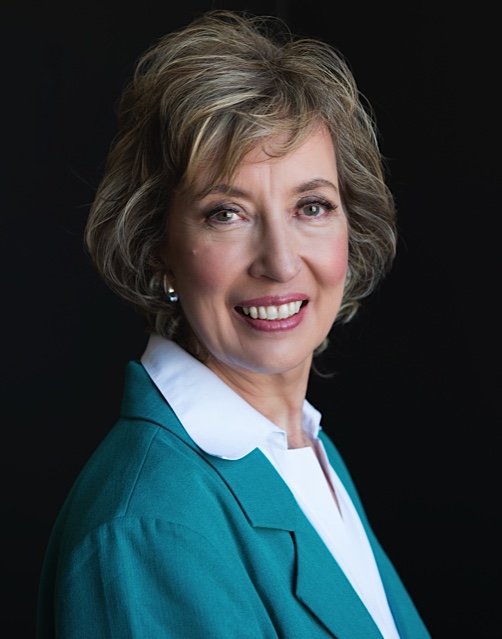 Bev Wolov
was the featured speaker. Her talk was entitled
"Undressing the Women of Sherlock Holmes."
Bev applied her love of fashion in history to the Sherlock Holmes Canon, using the illustrations in the
Strand
. The dates of the stories range from 1887 to 1927, and there were tremendous changes in fashion during that time. If one plays the Game, the stories are mainly Victorian and early Edwardian, from 1881 to 1905, with the LAST taking place in 1914. Doyle (or, if you choose, Watson) used almost no fashion references, so if they show up, Bev cautions you to pay attention. These references can tell us much about the characters.
In 1881 the bustle became popular. It indicated wealth, because the wearer had the money to spend on additional fabric and the bustle construction. Bev showed illustrations of the types of clothing worn by women in the Canon. Mrs. Hudson's and Mary Morstan's dresses would be made of good fabric, but with simple detailing as befitted their stations in life. Irene Adler's dresses were more elaborately trimmed with yards of lace, which was expensive and indicated wealth, just as jewelry would. She undoubtedly followed the latest fashions.
For Doyle (or Watson), fashion details reveal something about the characters in the story. For example: the mention of aprons was used to establish socio-economic status and indicate the type of neighborhood they were in. The same is true of shawls.
Bonnets were an instant indicator of status, and were highly decorated. Bonnets were not hats; there was no brim, and ribbons were tied under the chin. It is an indication of Irene Adler's wealth and social status that she was "the daintiest thing under a bonnet." Contrast this with Mary Morstan's plain turban and Mary Sutherland's hat, worn in the style of the Duchess of Devonshire.
Textiles were also subtle indicators of class. Mary Morstan was first modestly dressed, as befitted a governess, but once she was a potential heiress, she appeared in a luxury fabric—this signaled a shift in her social status. For poor Mary Sutherland, there was the contrast between her large size and the coquettish fashion she displayed, which showed the imbalance between her appearance and her plight.
Lady Brackenstall wore a loose dressing gown of blue and silver. Nearby lay her black sequined dinner dress, an indicator of money, taste, and class. Sequins showed that she had it made in Paris, where it was the height of fashion sophistication. The reader would understand that she was very much a lady, despite being reared in Australia.
In defense of Mrs. Neville St. Clair, mousseline de soie was silk muslin, usually worn as a sheer overlay over opaque fabric. She had dressed to greet her missing husband in a feminine gown, not a negligee.
Bev made the point that the Strand illustrations were often misleading regarding the women portrayed, especially for readers not playing the Game. Paget especially fell down in his drawings of women—he generally used a stock image and standard fashion. However, Doyle (or Watson) used fashion to reveal character, and at the time it was the only way in which a woman could communicate her identity. She concluded that fashion is not frivolous or unimportant: when you read the Canon, you have to know what you're looking at.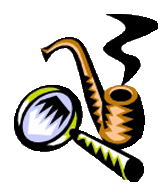 Reports on recent (and upcoming) eventsAlan Rettig
showed photos of the wedding of Sherlockians
Markus Geisser and Helen Dorey
in Winchester, England. In addition to Alan and Terry, Peter Blau, Bev Wolov, John Baesch and Evvie Herzog represented the Red Circle at the festivities in May.
Carla Coupe
recapped the recent
Scintillation of Scions
conference, "a Sherlockian family reunion," on June 12 and 13 in Linthicum, Maryland. Attendees were treated to many fascinating presentations, and the raffle raised over $500 for the House of Ruth women's shelter, in honor and memory of the many ill-used women in the Canon.
Greg Ruby
revived running of
The Silver Blaze
at Pimlico on May 23, where Sherlockians enjoyed delightful afternoon at the races.
Nea Dodson
described running a
virtual race
, where runners compete where and when they can, and where they can even break up a longer race into smaller components. She is considering starting a local Sherlockian-themed virtual running club.
Dana Richards
commented on the newly rediscovered and restored William Gillette film,
Sherlock Holmes
. He described how the long-thought-lost negatives were discovered in France, and the meticulous restoration process. The DVD/blu-ray will be out in October.
Vicki Eleni
reminded us about
GridlockDC
, which will be held on August 8 and 9 at the Bethesda Hyatt.
Attendees who came the farthest
Pam and Steve Mason
from Dallas, Texas. Steve is a member of the
Crew of the Barque Lone Star
. Thanks for visiting!
Next meeting
The Red Circle will convene again on Friday, September 25.
Editor's note:
This is Carla Coupe's first Red Circle meeting report. Thanks so much, Carla.